Claire Healy and Sean Cordiero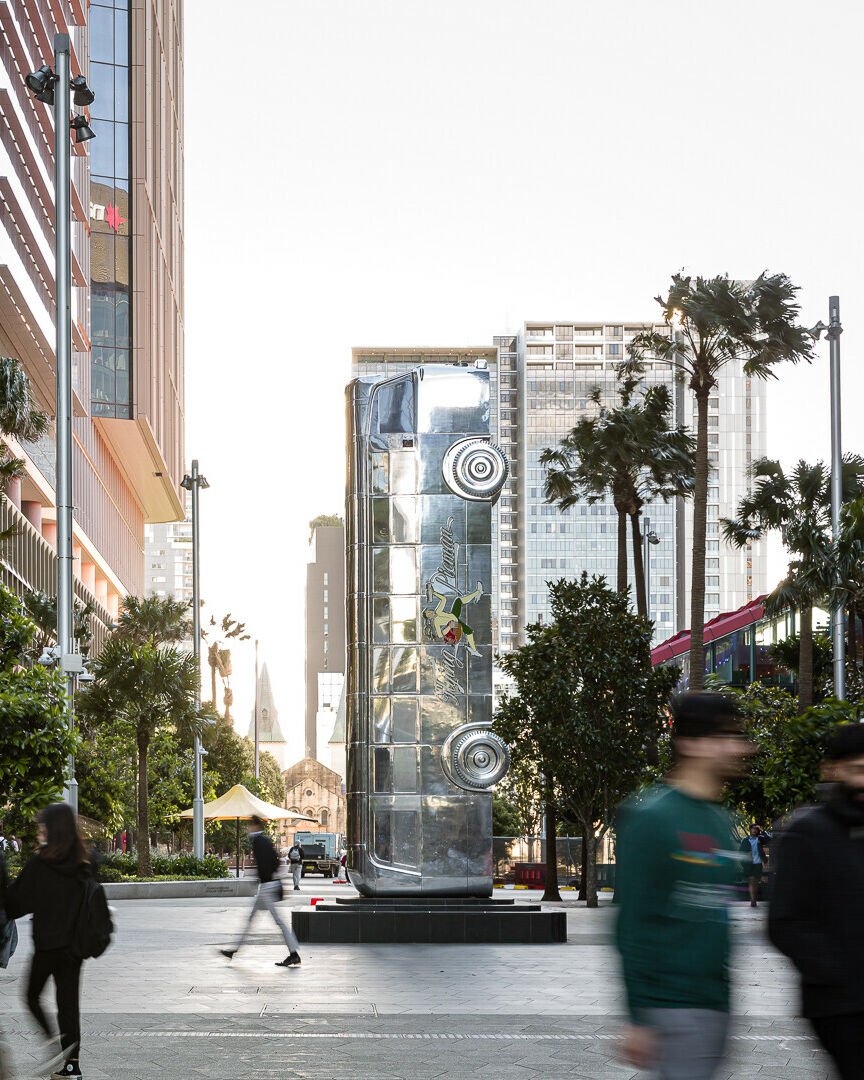 #Place of the Eels
SYDNEY, AUSTRALIA
Artistic duo Claire Healy and Sean Cordeiro are masters of storytelling. Their narrative driven practice which draws upon text, objects, and people from the past to illuminate histories sees them creating highly distinctive art which draws past into proximity with present, generating a dialogue which spans generations. Place of the Eels is no different. The monumental, vertically positioned, life-sized bus, sited in Parramatta Square is layered with meaning, combining rich insignia pertinent to the area, to become an ode to Parramatta, the city's multifaceted history, and vibrant community. Claire Healy and Sean Cordeiro drew inspiration from every inch of Parramatta to develop Place of the Eels, generating an artwork which celebrates the city, and the stories inherent to place.
The name Parramatta is derived from the Gadigal word, 'Barramattagal' which translates to 'the place where the eels sit down'. From this point, the artists delved further into the narratives which link both Parramatta as a place of eels, to reference the popular football team, the Parramatta Eels. The artwork is a replica of the Leyland bus that Jack Gibson purchased to coach the Eels within, after Cumberland stadium was torched during an out-of-control party celebrating their 1981 premiership victory. The Eels then went on to win two more consecutive premierships.
Weaving in additional narratives which are synonymous with the city, the artists celebrate the story of Parramatta's peripatetic pastry purveyor, The Flying Pieman - William Francis King; who was said to sell pies to people embarking on the Ferry journey from Circular Quay, and would then run with his stand to Parramatta, and sell more pies to the now disembarking passenger. Place of the Eels also make reference to coded messages of love passed between girls living at the Parramatta Industrial School for Girls, and traces migration histories through a memorialisation of Rosie Bint Broheen, a Lebanese immigrant who travelled to Australia in the 1890s, and became one of the first Lebanese woman to purchase property in Parramatta in 1922.
Standing at 8 metres high the sculpture 3D scanned from a scale model of a vintage Leyland Bus, cast in aluminium and mirror polished for a high shine finish, forms a striking addition to Parramatta Square. Place of the Eels becomes an enduring reminder to all those who pass by of the narratives of place, which are deeply imbued within the city.
UAP were approached by the artists to support their expression of interest submission, and upon their selection, undertook concept design, technical design, fabrication and installation.
Image Credit: Peter Kurnik, Grace Dooner, Rachel See, and Document Photography courtesy of UAP | Urban Art Projects

Design Assist
Digital Model & Render
Material Exploration
Materials and Construction Methods
Installation Methodology
Workshop
Technical Drawings
Advanced Manufacturing
Paint Shop
Mould Making
Sand Casting
Welding and Fabrication
Finishing and Patina
Installation
Creative
Claire Healy and Sean Cordiero
Artwork Title
Place of the Eels
Location
Sydney, Australia