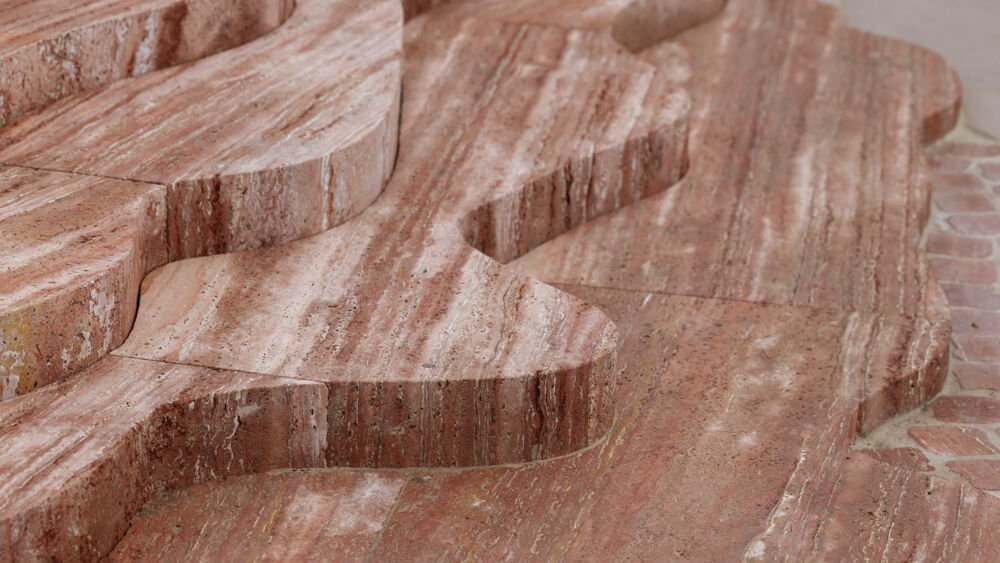 The Bondi Memorial Project endeavours to reclaim Sydney's Marks Park – a place once infamously known for horrific homophobic and transphobic violence between the 1970s and 2000 - as a safe space for the LGBTQI+ community. Looking towards the future, the memorial remembers and honours those fallen, creating a new identity for the park and offering a place of comfort to families and friends of the victims.
Designer John Nicholson drew on the juxtaposition of the harshness of the cliff face and the brutality of the site's history contrasted with the impeccable beauty of Sydney's coastline to create Rise. The work is comprised of a series of stone terraces which replicate the topography of the of the cliffs below the site, whilst also providing steps that climb towards the horizon and the sky, paving a way forward.
Each terrace of Rise represents the six bands of the LGBTQI+ Pride flag, and features engraved brass plaques that tell the stories of the brutal history as told by the community. Rise does not shy away from the site's dark history, acknowledging and remembering the atrocities to ensure history does not repeat itself.
This incredibly meaningful memorial was developed in UAP's Brisbane studio and made in their Shanghai workshop by their team of in-house stone masons.
I drew on the juxtaposition of the harshness of the cliff face and the brutality of what happened to the victims contrasting with the beauty of this pristine area of the Sydney coastline. I want people to sit on the steps and look out at the beauty of the ocean, but to also reflect on the lives of the people 'Rise' honours

John Nicholson
Image credit: Document Photography, John McRae
Design Assist
Digital Model & Render
Materials and Construction Methods
Installation Methodology
Workshop
Technical Drawings
Stone Masonry
Project
The Bondi Memorial
Client
Waverley Council & ACON
Location
Sydney, Australia