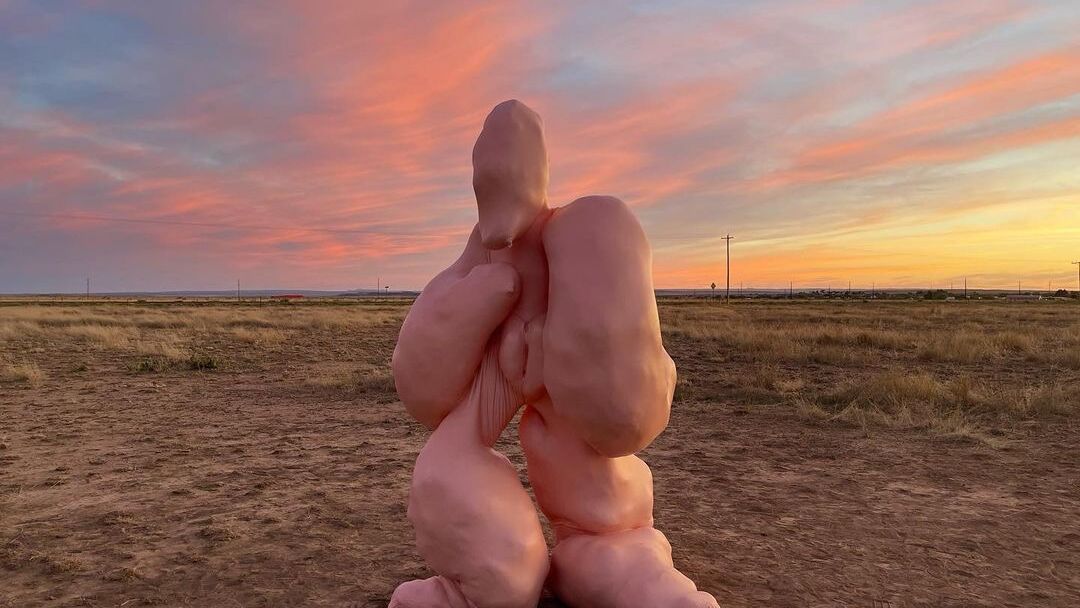 #BOD (2023)
MARFA, TEXAS, USA
Polly Borland is widely known for her portraits of prominent cultural figures and, conversely, underground communities. Borland's decades-long photographic investigations of publicly and privately curated personas are built on the manipulation of body, power, sex and ego.
The world-renowned photographer, famous for her images of models claustrophobically wrapped in carbuncled cotton stuffed pantyhose, has rendered such a figure into a life-sized sculptural form. BOD (2023) is a 7-foot-tall cast aluminium figure taken from a live performer wrapped in Borland's same signature soft sculpture. The seemingly flesh-like or gooey abstracted figure, finished in matte automotive paint, embraces a new sculptural potential of the artist's original abstracted forms.
Exploring a new realm of sculpture and fabrication, Borland takes her 2d work in photography to the 3d world. The 7-foot-tall sculpture began with a 3D scanning of a model dressed in a Nylon suit filled with batting material. Using the digital scans as a reference, moulds and wax patterns were produced and later used to cast the large sculpture in aluminium. Finally, the sculpture was painted to achieve a matte soft pink finish resulting in an enormous artwork that showcases Borland's artistic vision and versatility.
BOD (2023) was funded by Art Makers and delivered in collaboration with Nino Mier Gallery and the Marfa Invitational in Texas
Image Credit: Chris Roque, Nino Mier Gallery
Design Assist
Digital Model & Render
Workshop
Paint Shop
Lost Wax Casting
Project
Marfa Invitational
Location
Marfa, Texas, USA