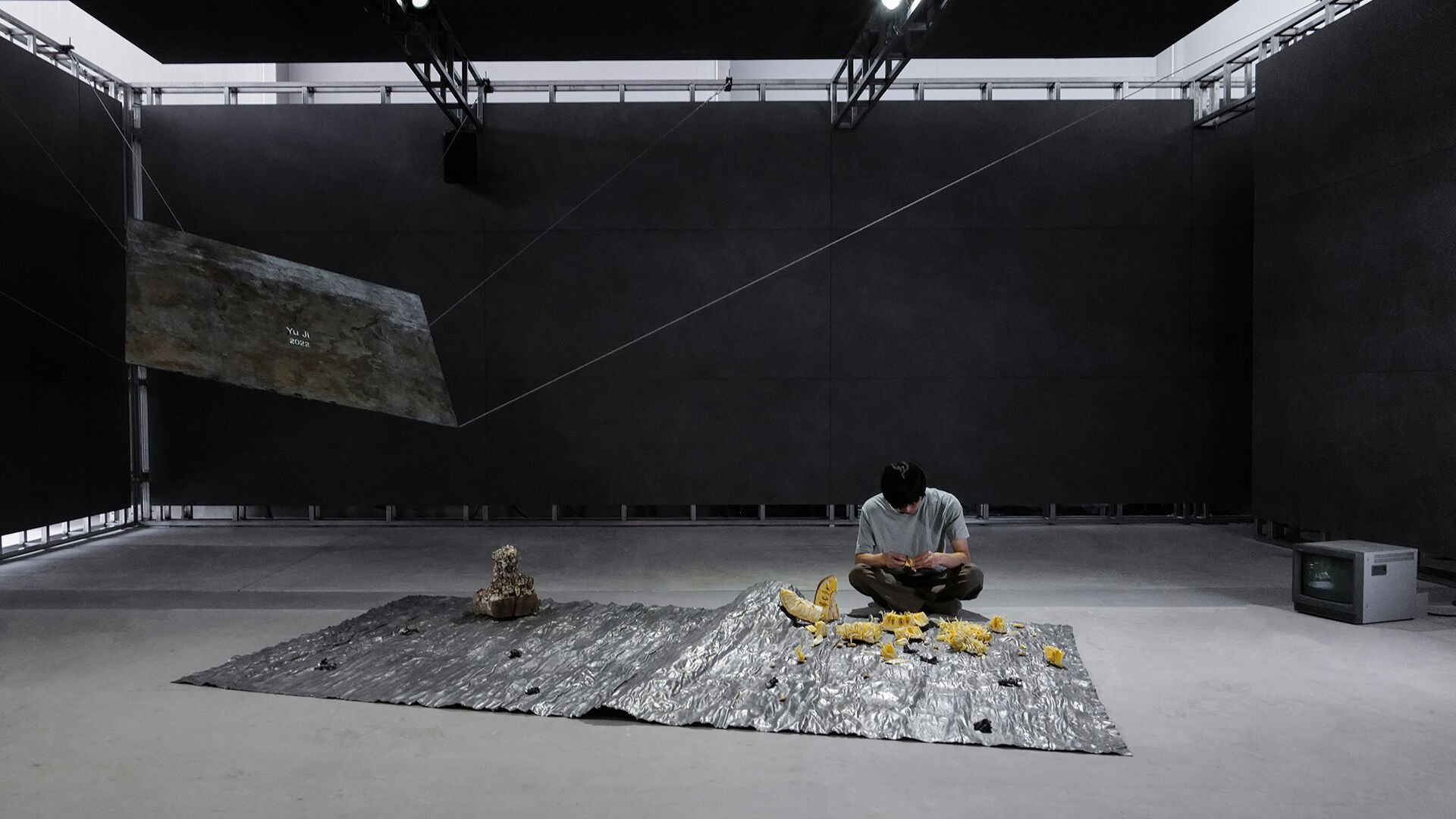 #Stone, Barnacles, and Seeds
SHANGHAI, CHINA
Yu Ji is known for her diverse material practice spanning sculpture, installation, performance and video. Her work is motivated by an exploration of the concept of place and how specific locations can be changed by both geographical and historical narratives. She embraces material imperfections to reflect upon instability and unanticipated change within our environments.

The inspiration for "Stone, Barnacles, and Seeds" comes from the artist's travels to various bodies of water—from the tideland by her seaside studio in Shanghai to the rock bed of a lake at the northeastern coast of America. For her, water morphs from a concrete memory into a mythical narration of time and decay—capturing a fleeting moment and its various movements, rather than a specific location. The theme of transformation is explored through the lens of various media—the eroding of metal, movement of water, changing of light, the decay of natural materials—denoting a journey that interweaves reality and memory.

Entering the exhibition, visitors will be immersed in a concerto of light and shadow illuminating undulating surfaces and textures to create a visual sense of flowing rhythms. Filmed imagery of water in mundane urban settings titled "Late Wave" (2021) plays intermittently on a retro television monitor. Two monumental sculptures anchor the piece—"Protrude II" (2022), a large bronze plate onto which the artist projects a video of water in motion, and "Half Peel Half Pulp III" (2022), a lead carpet formed into the organic shape of a wave. The artist experiments with texture and dimension, layering the metal carpet with sculptural references to organic sea material and sunken wreckage, while adding a divot within its surface alluding to the phantom presence of a human figure.
Throughout the exhibition, a performer peeled a jackfruit, depositing the skin within the artwork. The repetitive activity comments on time and transforms the artwork into an evolutionary process.
UAP worked closely with Yu Ji to figure out how to suspend this Bronze panel, which was fabricated and patinated by the team in China. Then, lead fabrication was introduced to the project scope to create the floor piece. This was the first time UAP worked with lead fabrication. It is a very deformable metal material capable of producing a natural organic form. Still, it is also very toxic, so the team cautiously handled it.
Developing "Stone, Barnacles, and Seeds" has allowed me to explore new fabrication techniques and take on the challenge of larger-scale sculpture. I am thankful to Li Qi and Audemars Piguet Contemporary for their support in creating the work and providing me the opportunity to exhibit this piece at West Bund.

-Yu Ji, Artist
Yu Ji is expanding her practice and mastering new textures. The collaboration with Audemars Piguet Contemporary has made this work possible and provided a platform to showcase this new commission which marks a new phase of Yu Ji's practice. I look forward to seeing how audiences respond to her evolving creation.

-Li Qi, Independent Curator of Contemporary Art
Image Credit: Courtesy of the artist and Audemars Piguet
Consultancy
Temporary Program
Design Assist
Digital Model & Render
Material Exploration
Construction Methods
Installation Methodology
Workshop
Technical Drawings
Pattern Making
Mould Making
Welding and Fabrication
Finishing and Patina
Installation
Restoration
Artwork Title
Stone, Barnacles, and Seeds
Project
Stone, Barnacles, and Seeds