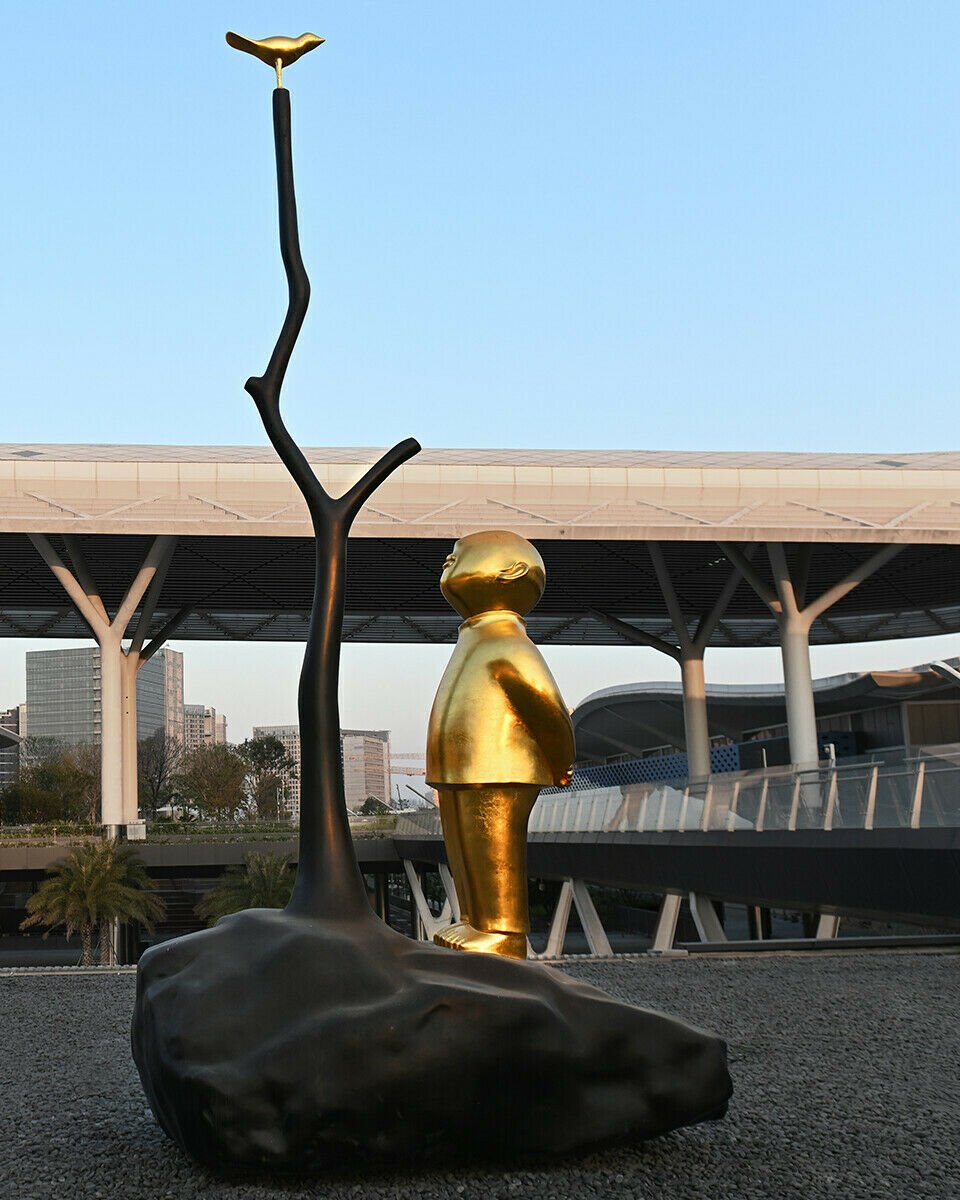 #Bird of the Mountain Forest
SHENZHEN, CHINA
The Shenzhen World Exhibition & Convention Centre's most public rooftop garden is home to Xie Aige's Bird of the Mountain Forest, standing within the Fengtang Avenue water feature. Known for her whimsical, masterfully created artworks, Bird of the Mountain Forest is Xie's largest public landscape sculpture to date. The cast bronze work is six metres tall, depicting a figure upon a rock looking up towards a bird perched on a tree; the figure and the bird are both finished in gold leaf, subtly reflecting light and embodying the sculpture's pure and hopeful nature.
UAP's Shanghai team assisted the artist throughout the design development, as well as coordinating the tailored fabrication and installation approach for Bird of the Mountain Forest.

The 1.48 million square meter centre is set to become the largest of its kind in the world. Incorporated within and throughout the Centre are ten site-specific artworks from seven different artists, each of which were selected following a comprehensive public art master plan created by UAP's Shanghai team.
Consultancy
Public Art Masterplans and Strategies
Artist Procurement and Management
Design Assist
Digital Model & Render
Materials and Construction Methods
Installation Methodology
Workshop
Technical Drawings
Pattern Making
Mould Making
Sand Casting
Welding and Fabrication
Finishing and Patina
Installation
Artwork Title
Bird of the Mountain Forest
Project
Shenzhen World Exhibition & Convention Center
Client
Shenzhen Municipal Government & China Merchants Shekou