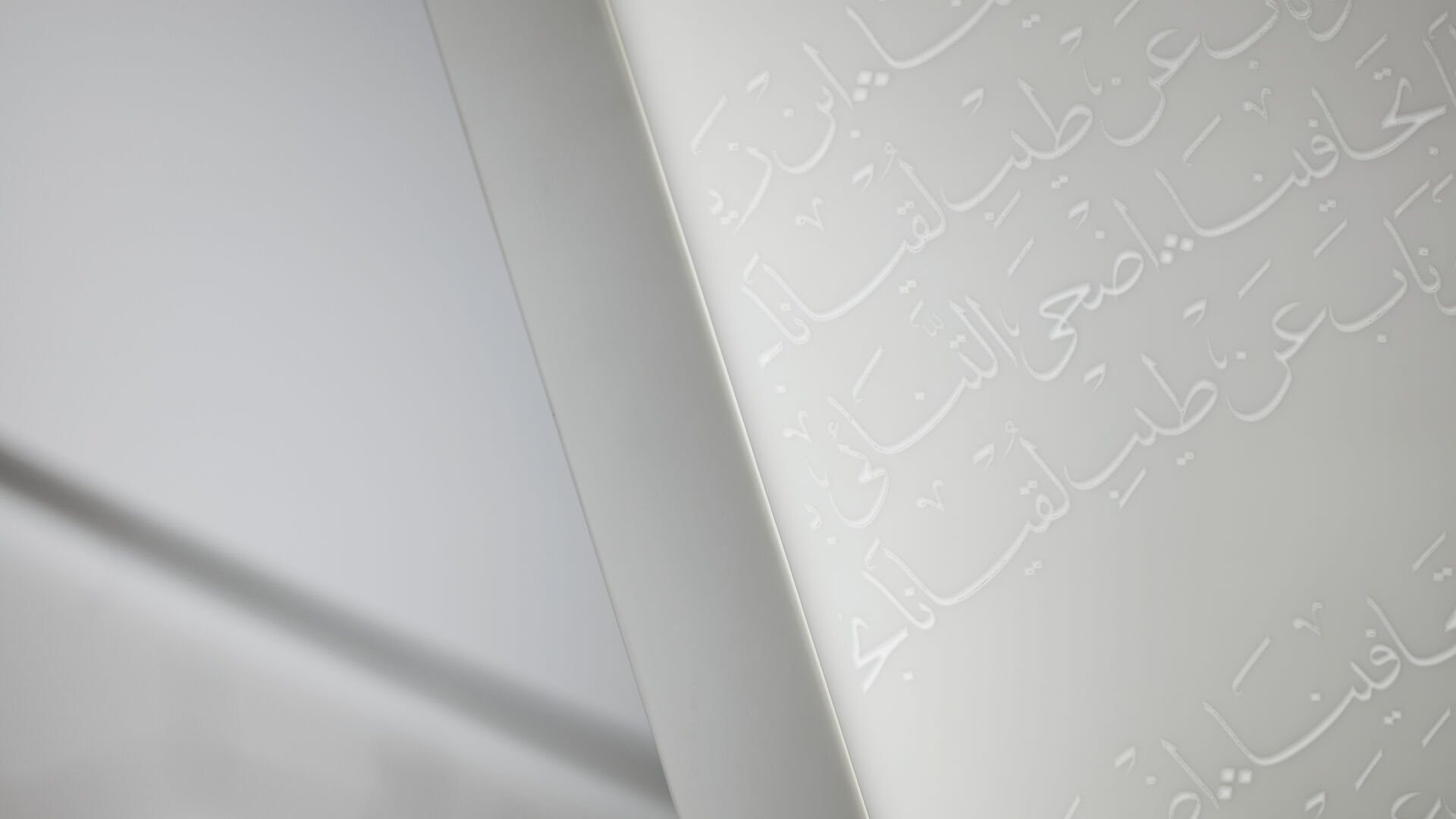 #Untitled
DHAHRAN, SAUDI ARABIA
Supporting Faisal in technical design, fabrication and installation, UAP helped deliver this educational and symbolic commission for Ithra, which spans four floors in Ithra's building. The sheer scale of the Library and its contents is demonstrative of the emphasis Ithra places on sharing and questioning knowledge while nurturing reading culture.
Faisal's artwork features traditional Arabic calligraphy and a unique design for each column in flowing and rhythmic patterns, generating a sense of calm across the multiple interior Library spaces. Each Arabic script was hand-drawn by Faisal to have its own unique visual 'fingerprint' before being digitised and then embossed by a robotic router arm. The materiality of the backlit Hi-Macs surface has the appearance and luminescence of a photography lightbox, where the text glows brightly from the routed surface.
Read more about this project and all artworks delivered for Ithra at Telluric. This publication documents the twelve different artworks commissioned within Ithra, with accompanying images and sketches that give readers not only a holistic view of these integrated artworks, but also a sumptuous sense of the detail and texture unique to each.
The written word has been and remains one of the most significant means of communication for transferring knowledge and culture between people around the world. Arabic calligraphy has enabled the dissemination of a wealth of information across different ages in Arab history.

Hani Faisal
Image credit: Cieran Murphy

Project
King Abdulaziz Center for World Culture - Ithra
Location
Dhahran, Saudi Arabia