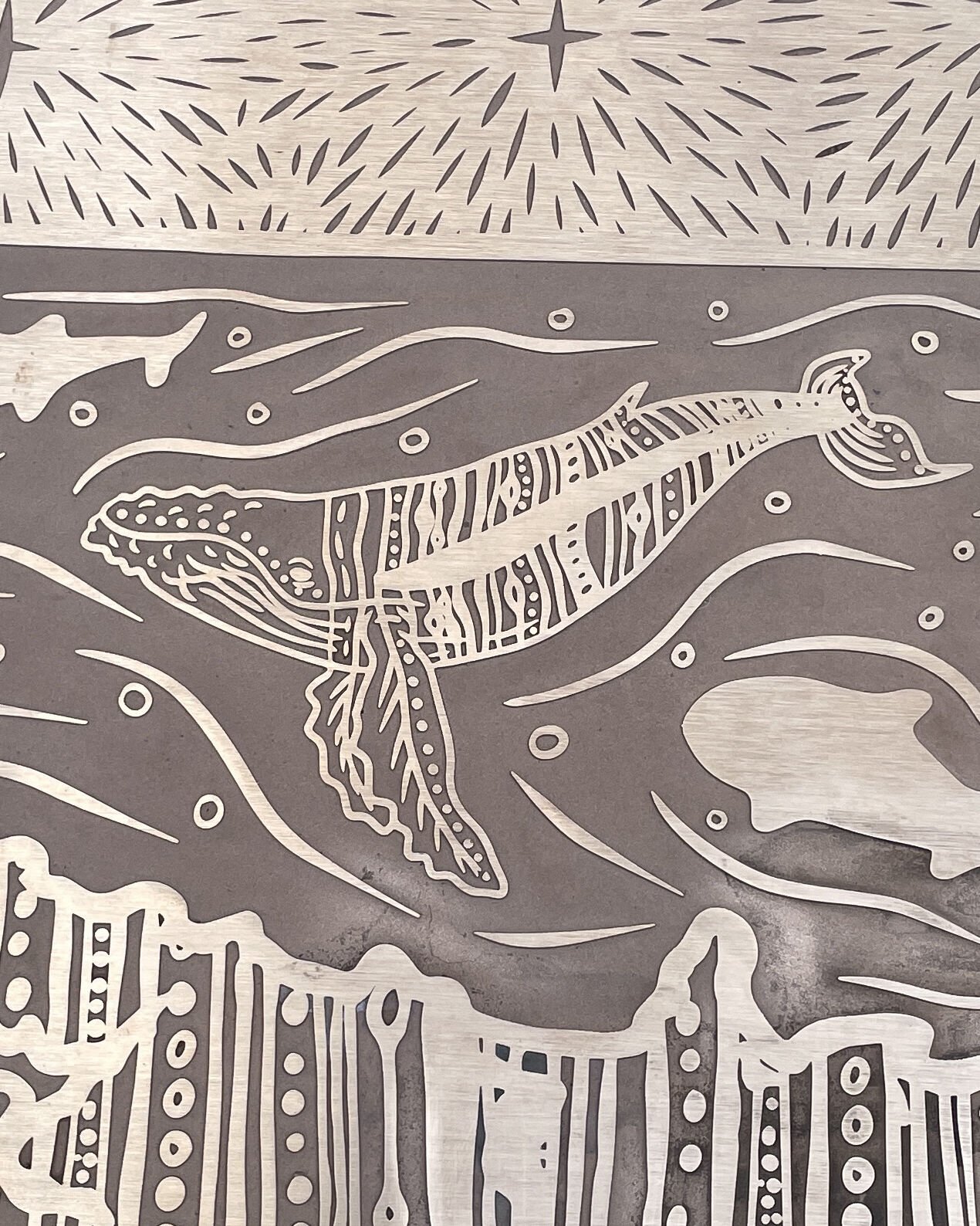 #Whale Songs & Oyster Shells - Middens
SYDNEY, AUSTRALIA
Frances Belle Parker is a proud Yaegl woman, painter, and installation artist. She is deeply inspired by her Mother's land (Yaegl land) and Ulgundahi Island in the Clarence River where her Mother grew up.
In 2021, Belle Parker was commissioned to create a series of works for the Northern Beaches Coastal Walk in Sydney, that connects people to the landscape, to each other and to the past, present, and future. The Northern Beaches Coastal Walk spans 36km of coastline between Manly and Palm Beach.
Belle Parker's work Whale Songs and Oyster Shells - Middens is a multi-part installation comprised of a series of bronze plaques embedded into the coastal pathway, as well as six aluminium oyster shell (Middens) sculptures.
Whales are embedded in Aboriginal culture in many forms, including dreamtime stories and totem animals for various language groups. In the series of bronze plaques, Belle Parker tells stories that symbolise the 'singing-in' of the whales along the coastline of the Northern Beaches. Positioned to reflect the night sky, the bronze plaques acknowledge the bloodlines of the traditional owners of the Northern Beaches.
Middens along the coast are places where Aboriginal people gathered to eat and would leave the remains of shellfish. They are synonymous with Aboriginal people, considered culturally significant proof of the people's use of the land as a meeting place. Belle Parker's oyster shells pay tribute to the midden sites, many of which are still regarded as a place of gathering. The aluminium oyster shells are engraved with symbolic imagery that represents bloodlines, coastal formations, the landscape and other sea creatures.
Made within UAP's Australian workshop, the casting patterns of Belle Parker's oyster shells were milled by the KUKA robot. The engravings featured within the cavity of the shells were refined by UAP's pattern making team, before being cast in aluminium. This incredible project was realised in close collaboration with the artist, Northern Beaches Council and UAP's Australian team.
Public artworks such as these by Frances Bell Parker, are significant to the recognition of First Nations connections and histories. Her work embeds culture and the layered stories of place into the broader consciousness through a public artwork that people can interact with on their daily experiences.
Image Credit: Northern Beaches Council and Rachel See
Design Assist
Digital Model & Render
Materials and Construction Methods
Installation Methodology
Workshop
Technical Drawings
Advanced Manufacturing
Pattern Making
Paint Shop
Mould Making
Sand Casting
Welding and Fabrication
Finishing and Patina
Installation
Project Management
Creative
Frances Belle Parker
Artwork Title
Whale Songs & Oyster Shells - Middens
Project
Northern Beaches Coast Walk, Sydney
Client
Northern Beaches Council
Location
Sydney, Australia