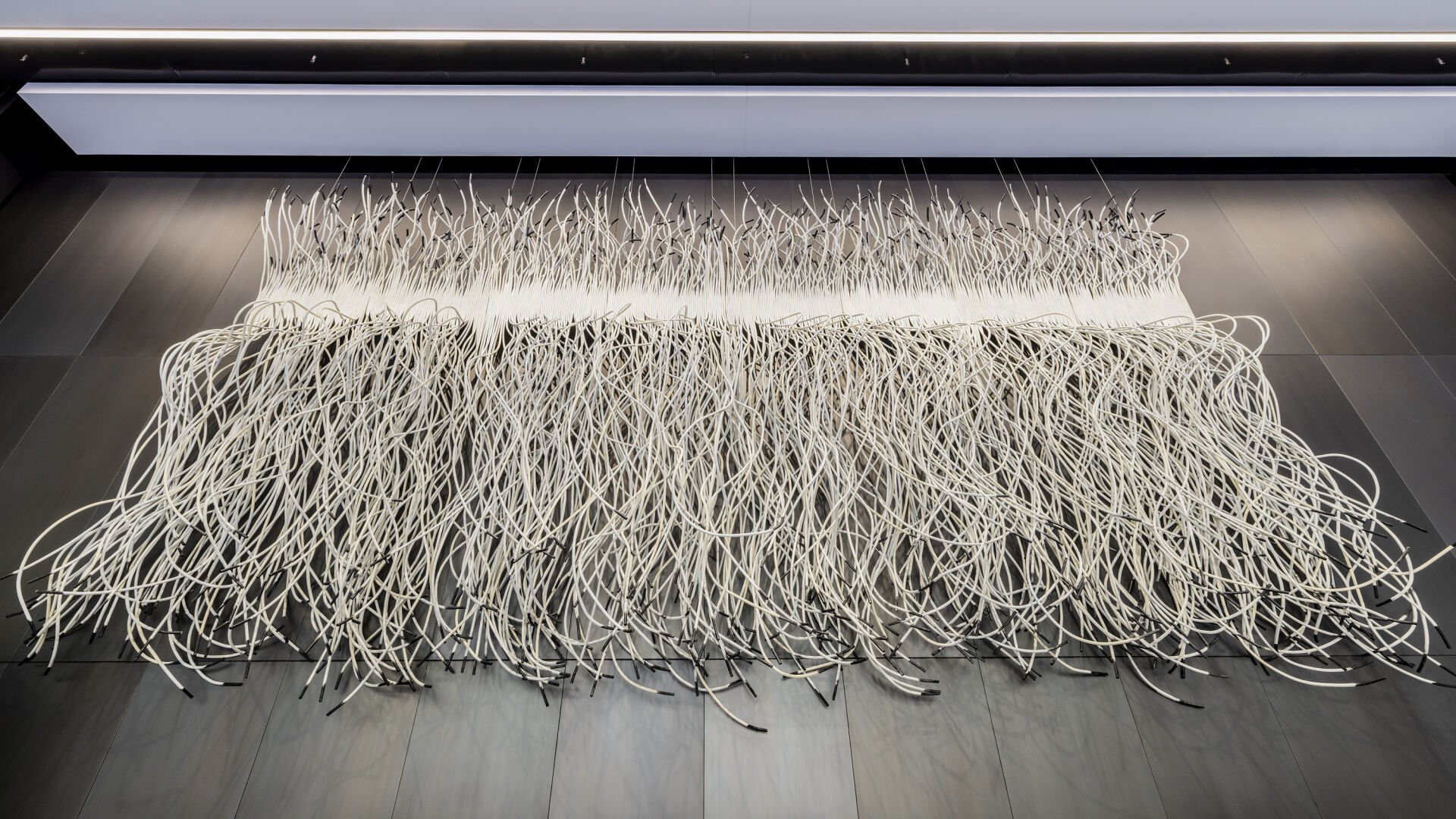 Australian artist Tracey Deep is renowned for her incredible floral sculptures made using natural and organic materials. In 2022 she was awarded the commission to create a site-specific permanent installation for the lobby of Brookfield Place Sydney
Brookfield Place Sydney was completed in 2021 and has transformed the central CBD district around Wynyard station into a vibrant and modern mixed use precinct. UAP worked with Brookfield Place to develop the curatorial vision "Threads of Place", which aims to weave ambition and energy into the precincts art to create a rich interconnected tapestry of place.
Responding to the curatorial vision, Deep developed the concept for 'Roots' which was inspired by the ancient treescape of Wynyard Park. 'Roots' connects community to the landscape of Sydney, forging a sense of place interwoven with threads of knowledge whilst accentuating and complementing the architectural grandeur of the space.
Spanning over 7 metres in length, 'Roots' seamlessly drapes behind the concierge desk on the Carrington Street lobby wall, referencing the intricate root systems that run below the ground in which it is installed.
With a practice deeply imbedded within natural and organic materials, Deep worked with UAP's designers and craftspeople to explore materials and finishes and develop bespoke fabrication methods that would capture her creative vision and honour her practice.
'Roots' was made using over 500 aluminium rods that were hand-formed by UAP's fabrication team. The double curvature of each rod was a challenging and labour-intensive process that required the team to develop a novel fabrication technique. Each rod was then finished using a hand applied ochre rub. The hand forming process allowed each rod to mimic Deep's organic creative practice and the interwoven nature of roots.
'Roots' was delivered as a result of a Public Art Strategy developed for Brookfield Place by UAP.
Roots will create a striking impact on all who experience the lobby, with its root systems of entangled branches that are encompassed with cross thatching of history and time.

– Tracey Deep
Image Credits: Hamilton Lund, Grace Dooner, Rachel See, courtesy of UAP | Urban Art Projects.
Consultancy
Artist Procurement and Management
Public Art Masterplans and Strategies
Design Assist
Technical Drawings and Engineering Support
Materials and Construction Methods
Material Exploration
Dedicated Design Assist
Workshop
Paint Shop
Welding and Fabrication
Installation
Project Management
Client
Brookfield Properties
Location
Sydney, Australia