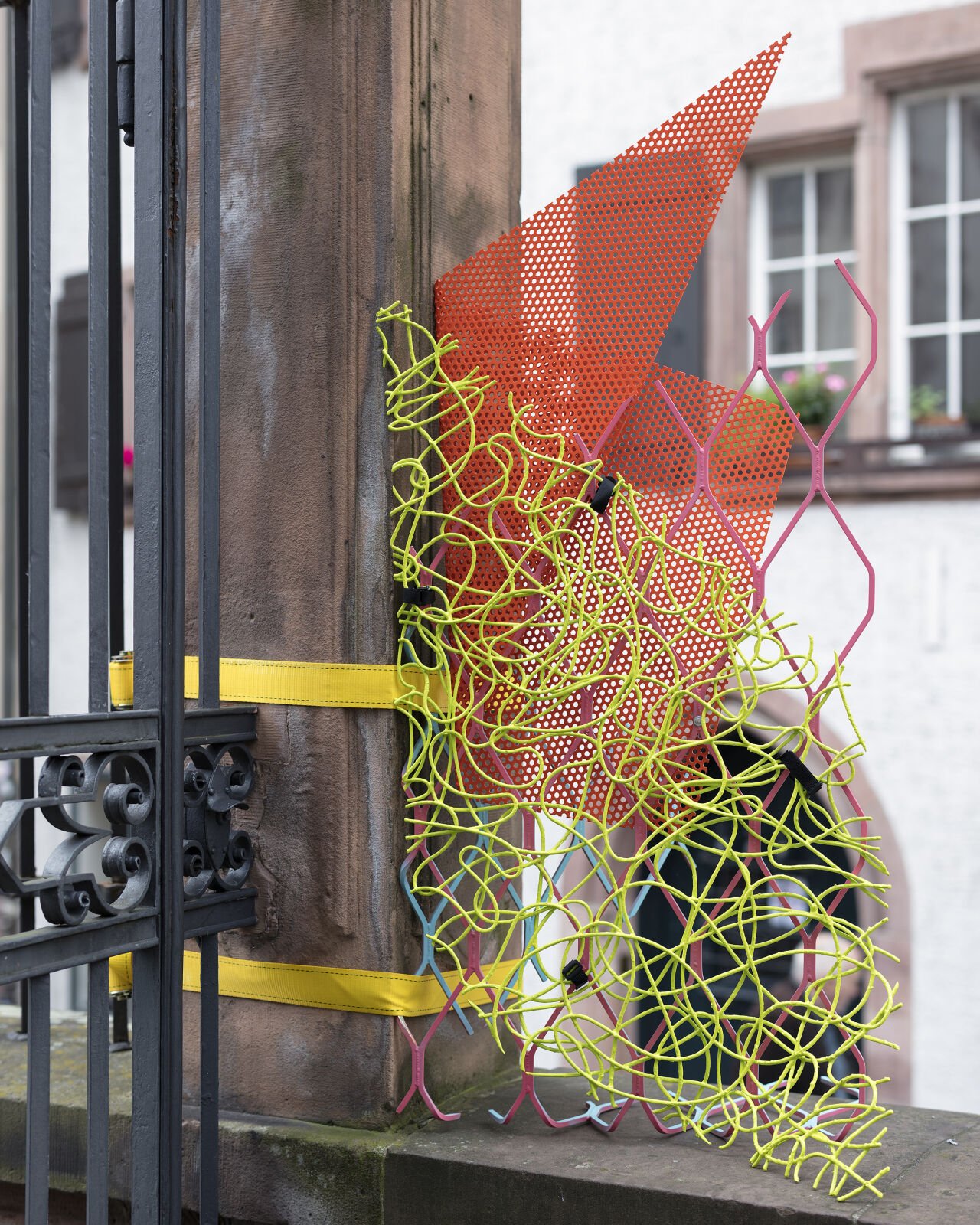 #3 squared from the riverbank & 3 squared @ half scale
BASEL, SWITZERLAND
Held in Basel, Switzerland, Art Basel is an annual contemporary art fair bringing together over 290 of the world's leading art galleries and showcasing the works of over 4000 artists. The event is recognized as a key international platform for galleries and artists to show and sell their works — attracting private art collectors, representatives from major institutions, artists and students from across the globe. For the 2018 event, American artist Jessica Stockholder was commissioned to develop two site-specific temporary works for public display in the surrounding neighbourhood.
Known for her multimedia installations using bold colour and found objects in striking compositions, Stockholder explores the different relationships between form and place. Titled 3 squared from the riverbank and 3 squared @ half scale, the two works are identical in colour, material and composition, with the second presented at half scale.
A continuation of the artist's ongoing Assists series — where sculptures are attached to an object for support — the works have an instant connection to the existing
urban environment.
Collaborating with Stockholder, UAP worked to translate the artist's concept diagrams into physical works. 3 squared from the riverbank and 3 squared @ half scale are fabricated using a variety of materials, including mild steel and perforated aluminium, and hand finished in exterior latex paint. The works were on display as part of the Parcours sector of Art Basel June 2018.
Jessica Stockholder is represented by Mitchell-Innes & Nash gallery in New York.
Image credits: Courtesy of the artist; 1301PE, Los Angeles; Kavi Gupta Gallery Chicago; Galerie nächst St. Stephan, Vienna; Galleria Raffaella Cortese, Milan; and Mitchell-Innes & Nash, John Hallett, Christopher Testa, New York
Creative
Jessica Stockholder
Artwork Title
3 squared from the riverbank & 3 squared @ half scale
Client
Jessica Stockholder and Mitchell-Innes and Nash
Location
Basel, Switzerland