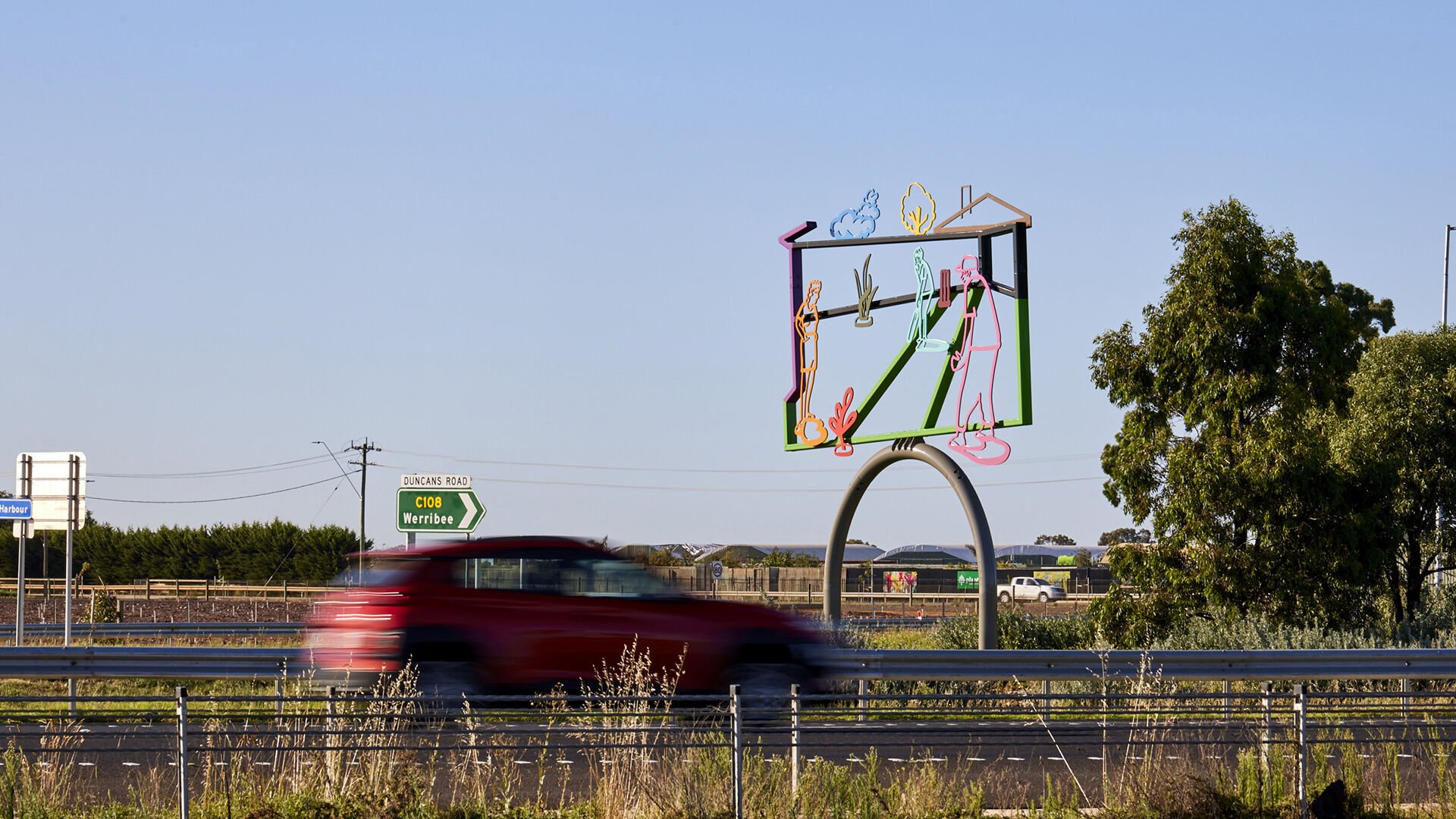 #Backyard
MELBOURNE, AUSTRALIA
Melbourne-based artist Jon Campbell's practice explores language and pop culture through paintings, drawings, light works, installations, and musical performances. A constant theme throughout his works is the celebration of everyday language, underpinned by the unique Australian slang.
Campbell's 2021 public art installation Backyard represents a stylised pop version of Campbell's childhood backyard in the western suburbs of Melbourne, echoing the aspects of everyday life in Australia, like a game of backyard cricket.

Backyard was commissioned by the Netflow consortium as part of the Victorian Government's $1.8 billion Western Roads Upgrade public-private partnership, a comprehensive package of road upgrades and maintenance of a 260-kilometre arterial road network for 23 years across Melbourne's western suburbs. This artwork was the result of an independent commission process managed by one of Australia's leading sculpture authorities, Melbourne-based McClelland Sculpture Park+Gallery.

Campbell invited UAP to support his EOI and concept proposal, which resulted in Backyard being fabricated in UAP's Brisbane workshop. The linear, billboard-like installation was created using laser cut steel, finished in bold automotive paint.
Image Credit: © Kit Haselden Photography and Rachel See
Consultancy
Public Art Masterplans and Strategies
Design Assist
Installation Methodology
Workshop
Technical Drawings
Paint Shop
Welding and Fabrication
Installation
Project
Western Roads Upgrade Commission
Client
Netflow & McClelland Sculpture Park+Gallery.
Location
Melbourne, Australia