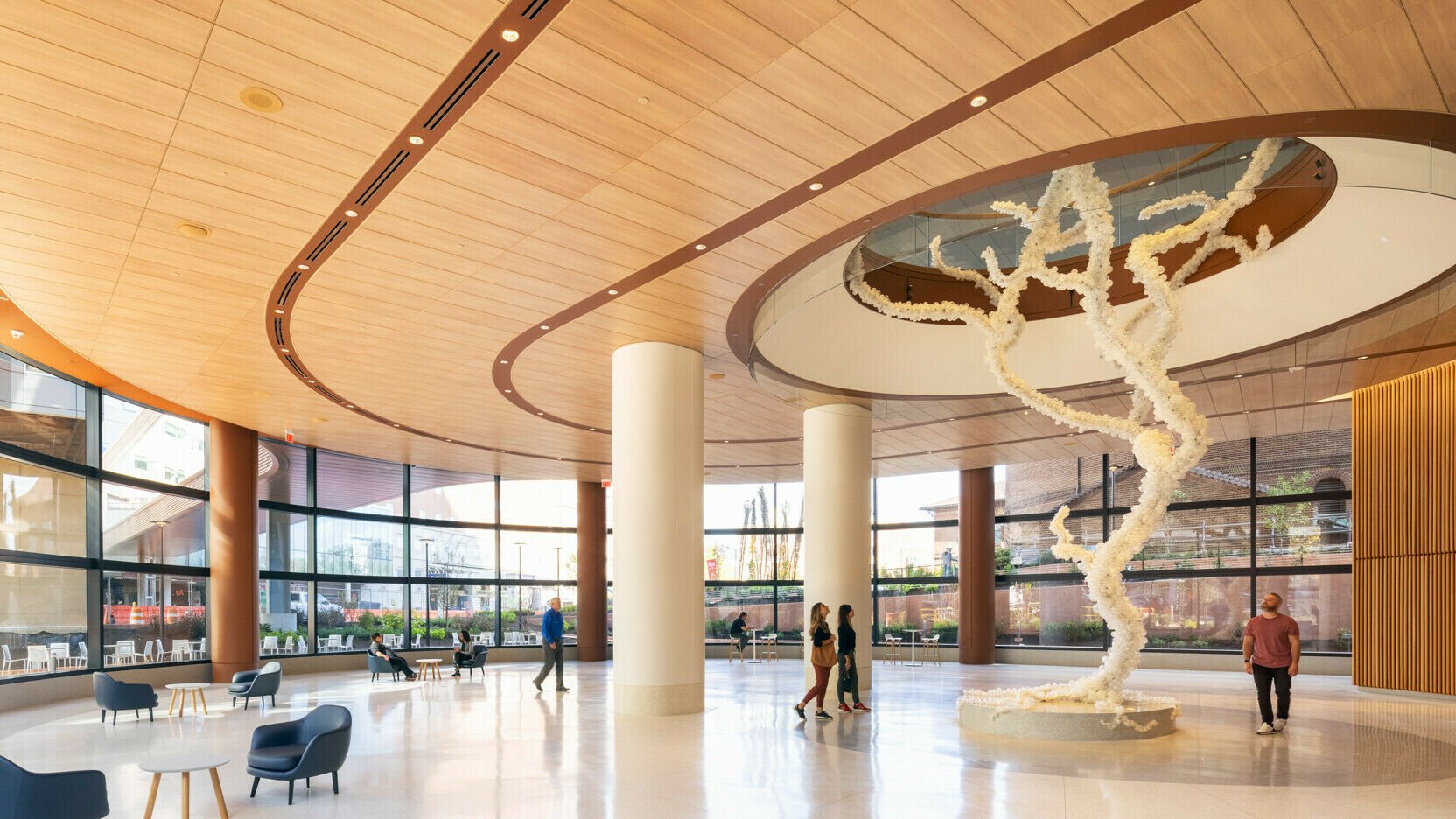 #Decoding the Tree of Life
PHILADELPHIA, USA
"My approach to this piece is to create something that is uplifting, that has a sense of wonder and beauty… I want to make you aware of your surroundings in the Pavilion, in this beacon of scientific advancement, connecting you to the physical and natural world around you while symbolizing the very essence of life—DNA." – Maya Lin
American artist Maya Lin is known for her large-scale environmental artworks, her architectural installations, and her memorial designs. Her works explore how people experience and relate to landscape, setting up a systematic ordering of the land that is tied to history, memory, time, and language.
Lin's 2021 public artwork Decoding the Tree of Life is installed within Penn Medicine's Pavilion. Lin's site-specific installation was commissioned by Penn Medicine to create a welcoming and vibrant atmosphere for patients and visitors, while connecting the fundamental elements of life and science.
Combining DNA and a branches of a tree Maya Lin explores how science and medicine can help us understand the basic foundations of life and to help us unlock these incredibly complex codes in Decoding the Tree of Life. Lin's incredible work is suspended from the Pavilion's ceilings, and weaves between the ground floor and connector levels within the Pavilion's atrium.
Made within UAP's Rock Tavern foundry, Lin oversaw the entire making process, from the original mock-up to the final form. 22 cast stainless steel branches were welded together to create the artwork's form, then over 15,500 handblown glass spheres were affixed to the structure. UAP's North American team worked closely with Lin to explore materials, create digital models & renders, and realise the final incredible work.
This artwork is delivered by UAP in collaboration with AO Glass in coordination with Keer Glass.
Photos by Dan Schwalm © 2021 PennFIRST
Penn Medicine & Chris Roque
Design Assist
Digital Model & Render
Materials and Construction Methods
Installation Methodology
Workshop
Technical Drawings
Pattern Making
Sand Casting
Welding and Fabrication
Installation
Artwork Title
Decoding the Tree of Life
Project
Pavilion at the Hospital of the University of Pennsylvania
Location
Philadelphia, USA