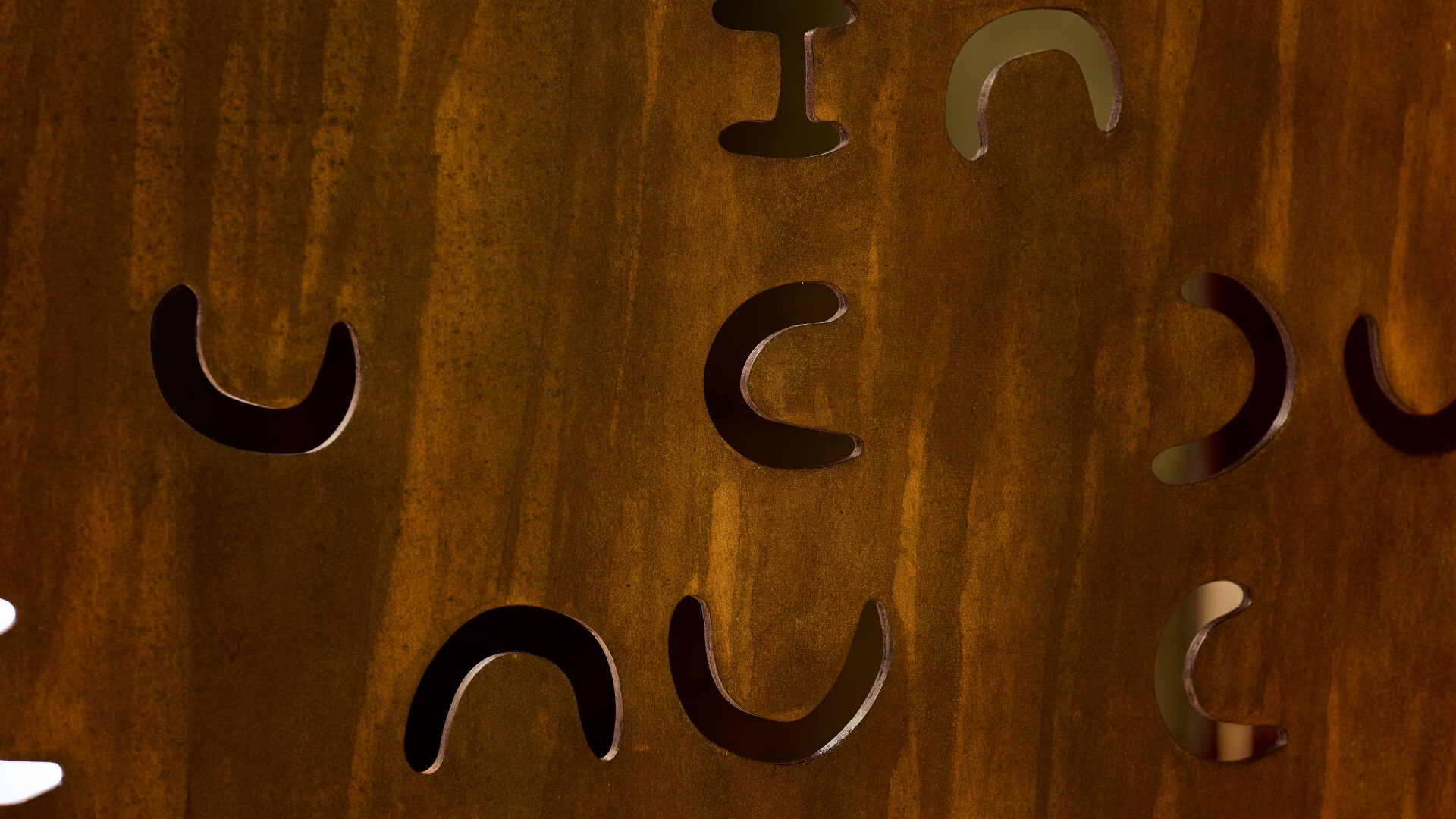 #History Gates
DHAHRAN, SAUDI ARABIA
Each of Belinda Smith's seven intricate patterns that perforate the History Gates represents a specific moment in Saudi Arabia's rich past. The gates are specifically sited within Ithra to create a fluid moment of human scale transition between the different ground floor plazas, offering a new experience at each entry and exit point. When read together, the designs create a narrative through time and its corresponding culture and innovation. The number of gates is significant: Haj pilgrims walk around the Kaaba seven times, and seven wells were drilled in search of oil at the site of Ithra; it was at the seventh where oil was struck, leading to it being known today as the Prosperity Well.
Delivered in collaboration with UAP, Smith's History Gates continues her practice where narratives of environment, anthropology and history are interwoven to create outcomes unique to each project. Smith chooses materials and fabrication techniques specifically to reinforce the artwork's meaning and purpose. In this case, the corten steel materiality of History Gates speaks to the strength of its inherent concepts and the endurance with which they will withstand and record time's test of relevance, firmly rooted as the preeminent markers of Saudi Arabia's history.
UAP joined the Ithra project team in 2010 in a curatorial capacity, to work alongside Mona Khazindar in the early planning stages of the integrated art program. Ithra and Mona's vision was ambitious, to procure and commission twelve highly site-specific artworks that spoke symbiotically to Ithra's core philosophy and architecture, designed by the Norwegian studio
Snøhetta. UAP also worked with Aramco and the King Abdulaziz Center for World Culture to oversee the delivery and install of these incredible projects.
Image credits: Cieran Murphy
Artwork Title
History Gates
Project
King Abdulaziz Center for World Culture - Ithra
Location
Dhahran, Saudi Arabia