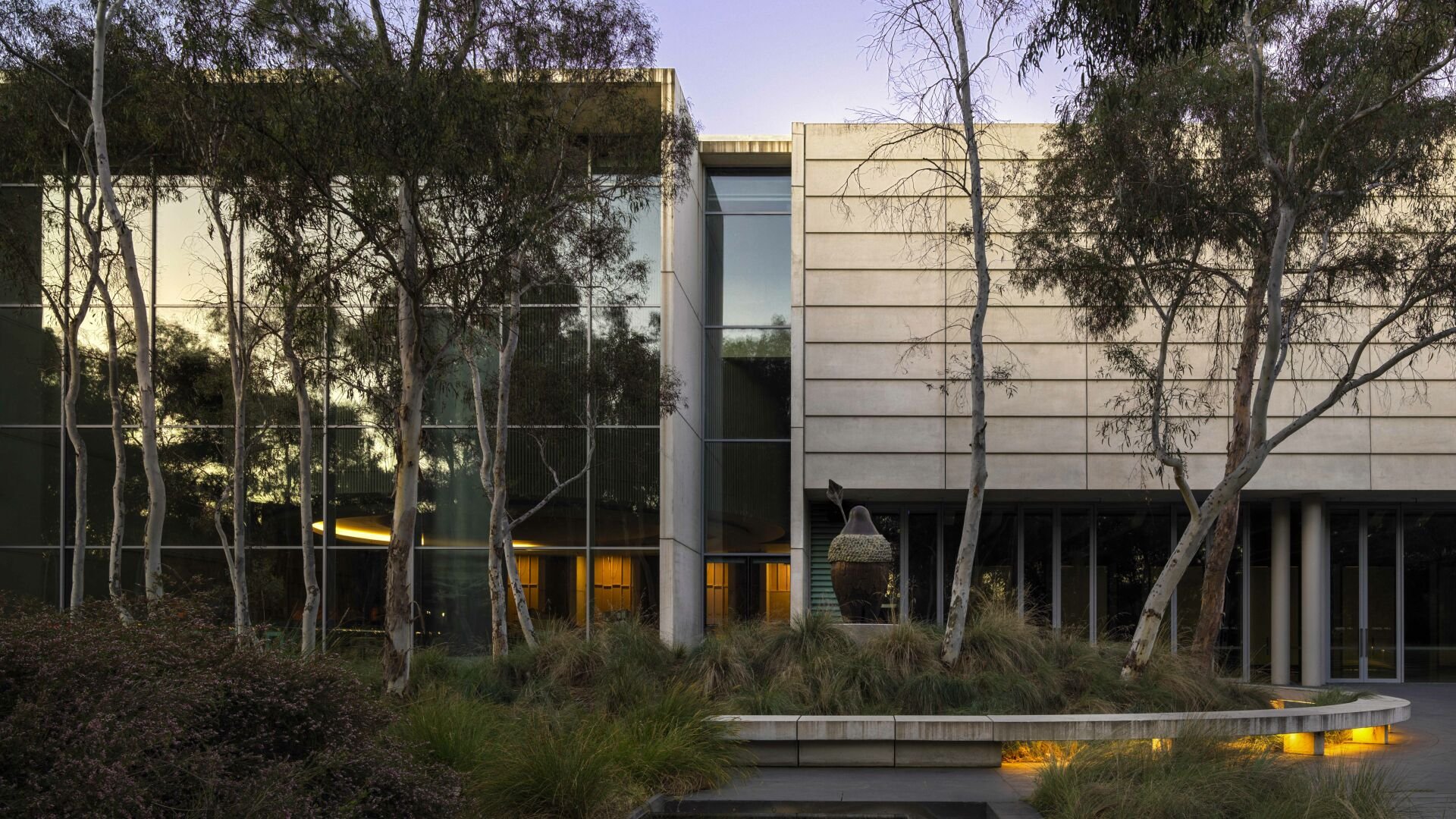 #Sister Charm
CANBERRA, AUSTRALIA
Janet Fieldhouse is a Torres Strait Islander artist who values the importance of women's traditional practices, including weaving body adornments for ceremonies, dances, hunting, and gardening. Janet also recognises the significance of cultural materials, rituals, society, religion, and artifacts within the Torres Strait community, all created to fulfil functional and spiritual needs.
The National Gallery of Australia has partnered with Art Makers to commission three major, large-scale sculptures by women artists for the National Gallery's Sculpture Garden. Sister Charm by Janet Fieldhouse is one of these installations.
This artwork cleverly integrates the imagery of the sea turtle, a totem deeply significant to the artist's lineage. It references the ancient technique of sacrification, adding layers of cultural richness to the sculpture. The feather adornment on the form symbolises the cultural practice of weaving baskets, carrying metaphorical connections to memory. Additionally, the feathers hold significance, representing gatherings, ceremonial dances, and celebrations.
During a workshop at UAP, Janet made a finished maquette in ceramic. UAP had the form 3D scanned and used this as the base to mill the polystyrene pattern robotically. Both the woven component and the feather were hand-sculpted by UAP pattern makers. The feather was then cast in stainless steel, polished back, and applied with a black paint rub. The form was cast in Bronze with various patina applications to the surface.
Sister Charm offers a fresh interpretation of age-old traditions, reshaping cultural associations into a profound artistic expression. In doing so, it redefines the contemporary essence of what it means to be a Torres Strait Islander woman today.
Sister Charm was created in our Brisbane workshop in close collaboration with the artist and funded by Art Makers.

Sister Charm is the protector, a deity, a magical vessel of power. Its body form is a platform and an abstract idea of identity. Sister Charm references the connection that was my own journey of meeting First Nations people in USA, particular the Pamunkey tribe in Virginia and the First Nations people of Santa Fe in New Mexico, the Tewa people of the Pueblos.

Janet Fieldhouse
Image Credit: Rachel See, Janet Fieldhouse, Kalaw Lagaw Ya/Meriam Mir peoples, Sister Charm, 2023, National Gallery of Australia, Kamberri/Canberra, on loan from the artist and Art Makers
Design Assist
Digital Model & Render
Material Exploration
Construction Methods
Installation Methodology
Workshop
Technical Drawings
Advanced Robotics
Pattern Making
Mould Making
Sand Casting
Welding and Fabrication
Finishing and Patina
Installation
Artwork Title
Sister Charm
Client
Art Makers and National Gallery of Australia (NGA)
Location
Canberra, Australia