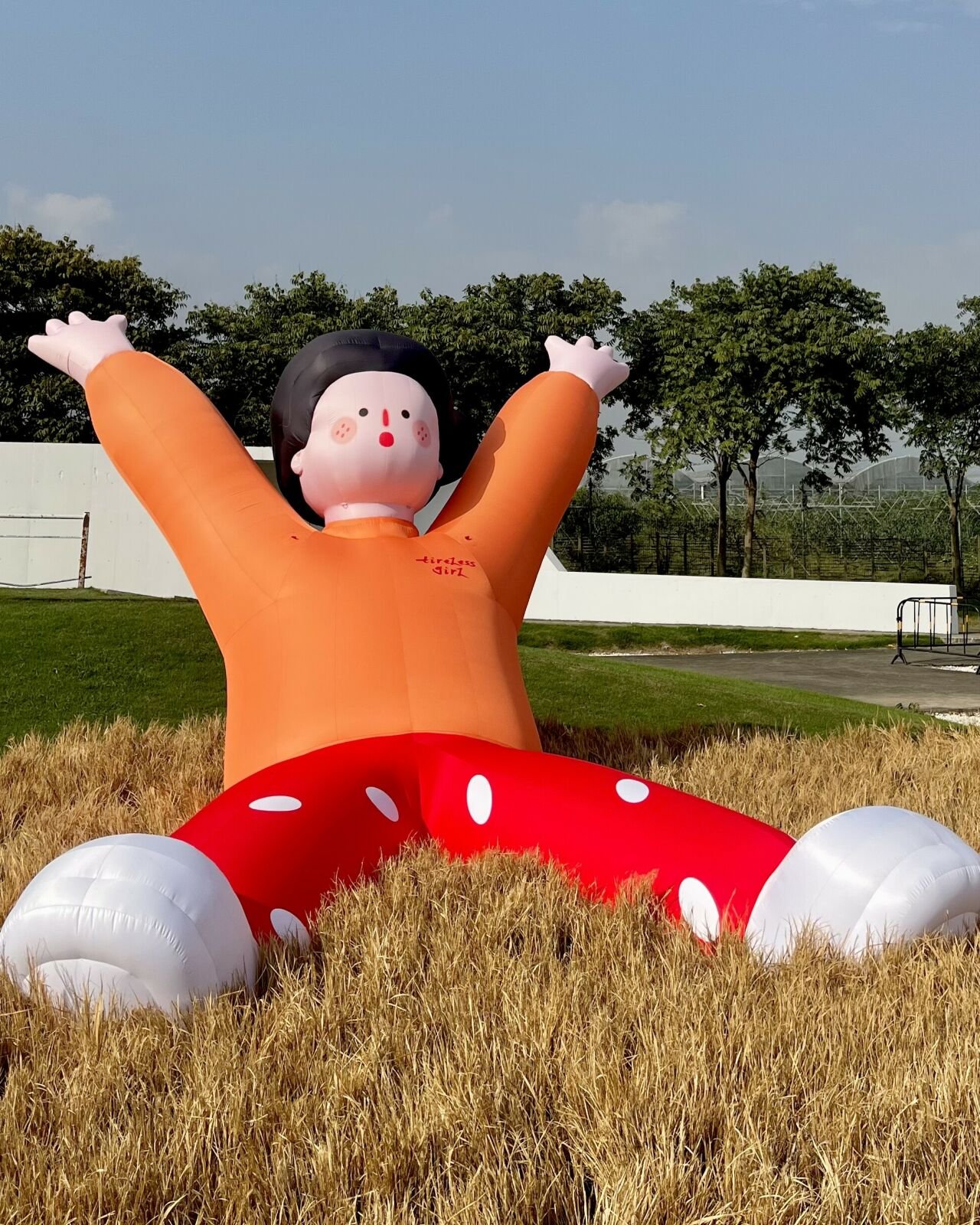 #Tireless girl in Jinshan
SHANGHAI, CHINA
The 2023 Shanghai Urban Space Art Season (SUSAS) opened on September 24th and will run until November 20th. This season's theme is "Ten Thousand Acres of Fragrant Rice, Microbrewed Langxia." It aims to showcase Langxia's appeal in three dimensions: ecological sustainability, intellectual advancement, and cultural pride through green pilot initiatives, a big data centre for smart agriculture, and its rich cultural heritage.
Our Curatorial team invited Chow to create a customised artwork for the Langxia Country Park promenade. This project breaks down the barriers between art and the public and realises the vision of cohabitation between art and ecology. In addition, UAP Deputy General Manager Qian Qiufeng shared a wealth of examples of public art practice and discussed the charm of art with artists and planners participating in the forum.
Tireless girl in Jinshan depicts a dynamic and spirited young girl who takes on challenges with enthusiasm. The girl's hairstyle, reminiscent of the Tang and Song dynasties, symbolizes her connection to Chinese culture. The artwork showcases the artist's strong identification with Chinese culture and celebrates the enduring spirit of individuals, particularly young women, who face challenges with unwavering determination. It's a beautiful representation of resilience and cultural pride.
The curatorial team worked with Chow to create the wheat garden idea, giving a deeper meaning to the temporary artwork. As the breeze passes by, the wheat fluctuates like ripples. Autumn brings not only a cool autumn breeze but also a season of harvest.
Consultancy
Public Art Strategy
Artist Procurement and Management
Temporary Program
Marketing Solutions
Decommissioning
Design Assist
Construction Methods
Installation Methodology
Artwork Title
Tireless girl in Jinshan
Project
Shanghai Urban Space Art Season
Client
Shanghai Jinshan Langxia district