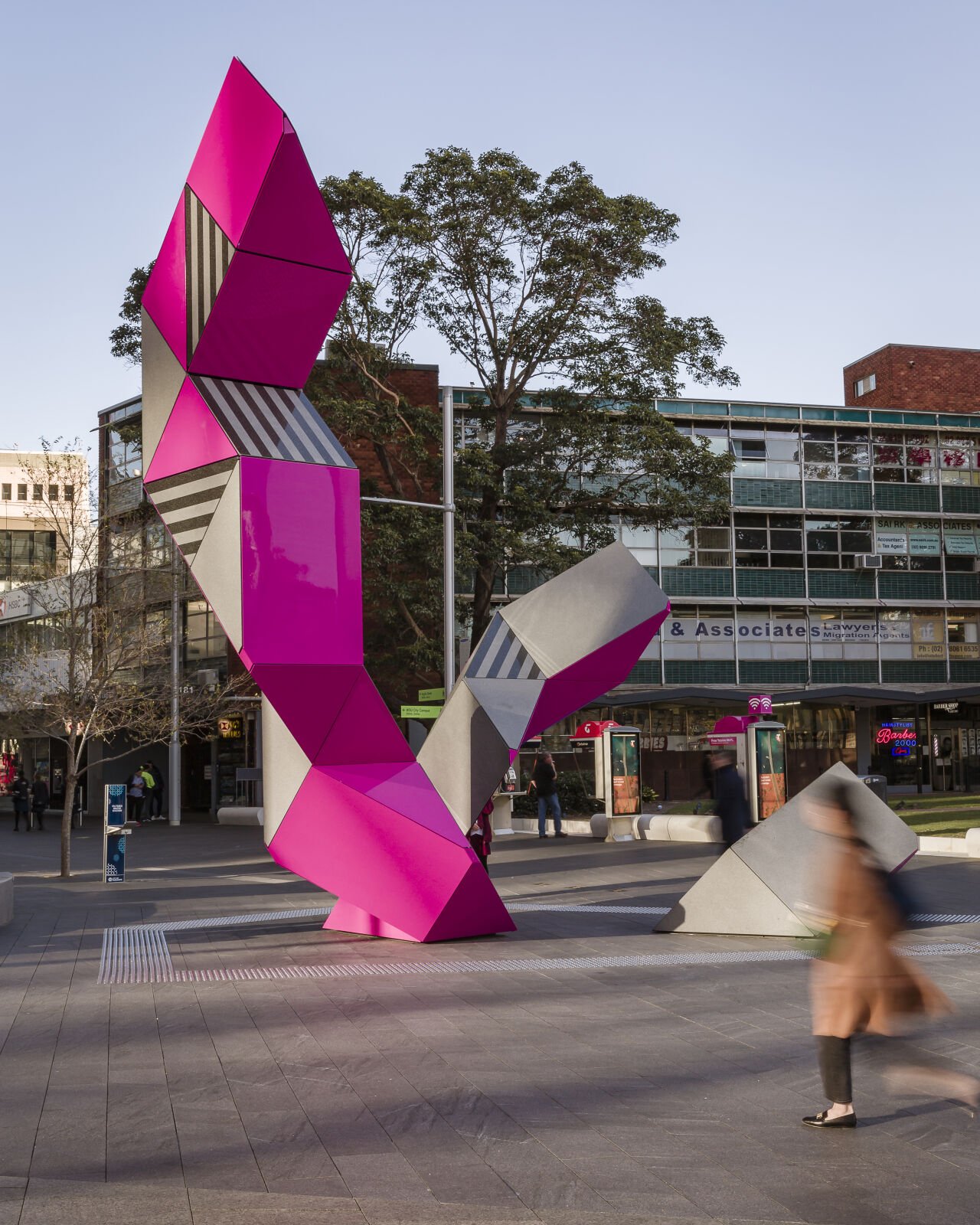 #Where Eels Lie Down
SYDNEY, AUSTRALIA
Reko Rennie is a visionary interdisciplinary artist who delves into his Aboriginal identity through contemporary mediums, sparking profound dialogues about First Peoples' cultures within urban landscapes.
This artwork depicts two large-scale eels emerging from the ground, representing the historical migration of people in Parramatta. The entwined bodies of the eels symbolize unity and connection. It speaks directly to the local Dharug Aboriginal community for whom 'Barramadda' means 'the place where eels lie down'. This impressive sculpture stands at a height of 7.5 meters and can be viewed from multiple angles, enticing visitors to admire its geometric shapes as they ascend from the ground.
'Where Eels Lie Down' breathes new life into Parramatta Square, transforming it into a vibrant gathering place where diverse communities converge to share stories, wisdom, and moments of connection. By intertwining the eel's rich history and the Parramatta region's profound Aboriginal culture, this monumental artwork infuses the public space with a sense of meaning, captivating locals and visitors alike.
UAP's Design Assist team partnered with the artist for the competitive design process. The insights and input from all teams at various stages of the process allowed us to tackle challenges as they came. From initial renderings to the meticulous design of the 33 square metres of granite panels weighing up to 4 tonnes to the attention to detail in painting and finishing over an additional 33 square metres of aluminium panels weighing about 550kg, every step of the design and fabrication process was a testament to the expertise and close collaboration of the artist and our teams.
This project provides an opportunity to create a public artwork that speaks to the significant history of Aboriginal culture and identity of the Parramatta region in a contemporary context. As with past public art projects, my aim is to examine the historical and present day use of sites as a means to creating work that enlivens and enriches local and broader communities

Reko Rennie
Image Credit: Document Photography
Design Assist
Digital Model & Render
Material Exploration
Construction Methods
Installation Methodology
Workshop
Technical Drawings
Paint Shop
Welding and Fabrication
Installation
Restoration
Artwork Title
Where Eels Lie Down
Location
Sydney, Australia