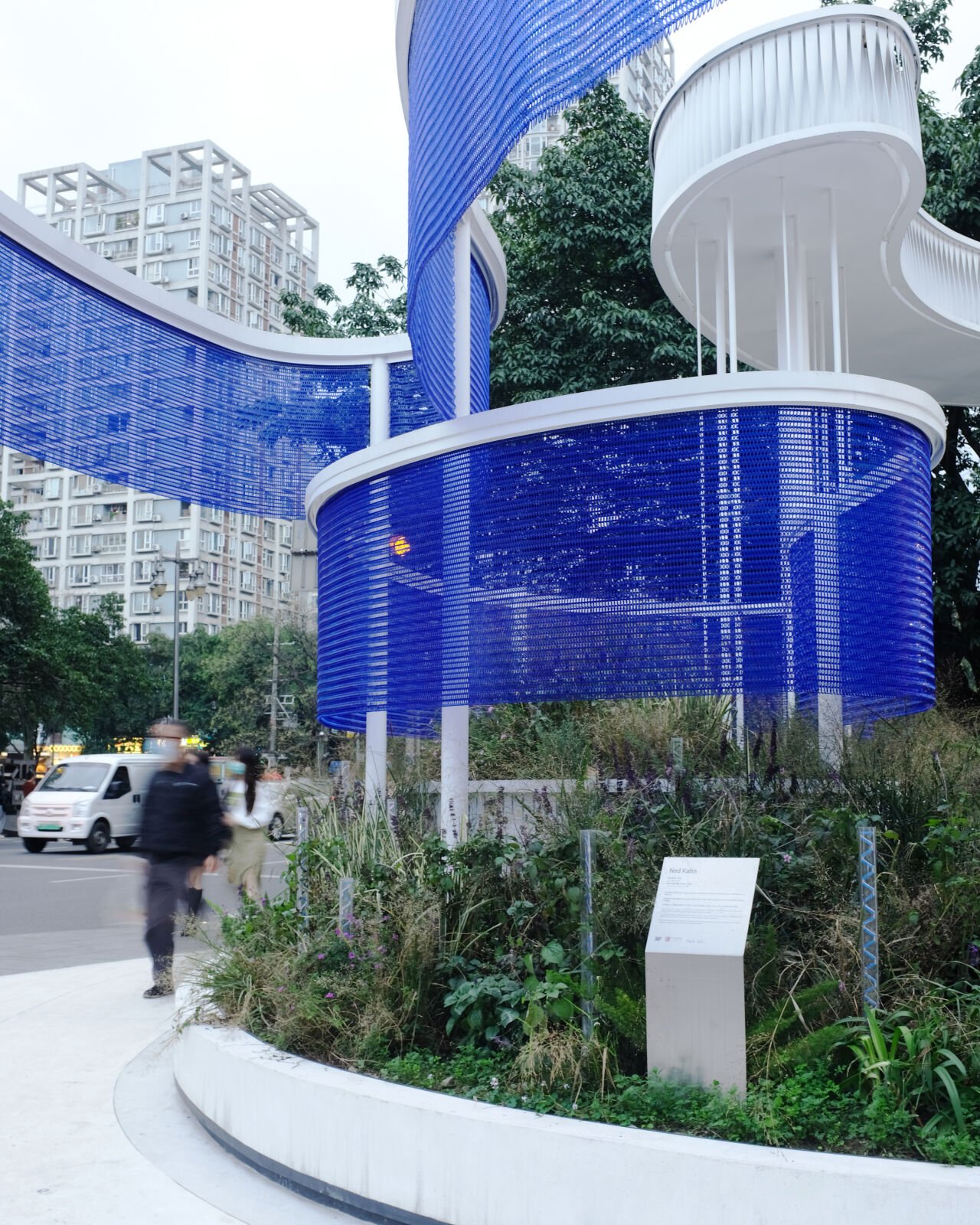 Ned Kahn is an environmental artist and sculptor whose work mimics the usually invisible forces of nature and makes it visible to audiences. His main interests include fluid dynamics, optics, acoustics, and other physical phenomena.

As part of the Chengdu Vanke urban renewal project, the artist Ned Khan's bold sculptural installation Wind Towards Future is located on Tianxiang Street in Chengdu. The street is located adjacent to Wangping Street, and to the local dwellers, they are recognised as some of the oldest streets in Chengdu. They bring out the city's hustle and bustle in just the right way, showing the city's energy. On this street, visitors cannot only touch the traces of time residing between the white walls and green tiles but also feel the youthful vitality of the bustling 339 shopping district. As a channel between the past and the future, the artwork Wind towards Future echoes the lively atmosphere of Tianxiang Street's marketplace, paying tribute to the earthly Chengdu and welcoming people from all over the world.
The elements of nature inspire this work, and the blue materials are undulating in the air forming a group of flowing dynamic lines resembling ripples of the water. The breeze wafts through the ends of the hair on the side of the face, filled with the fresh smell of grass and the fragrant smell of flowers. They're the traces of nature touching our cheeks. The work invites people to feel the flowing wind and communicate with nature. The artwork is looking forward to serving as a channel, offering an opportunity for people to go together and co-exist with nature in this infinite future. Art and space are combined on the site, connecting with the city and its people. For the first time, our team in China uses Kaynemaile – a light, soft building material with high degrees of plasticity imported from New Zealand. Its ability to actively interact with wind and visual permeability makes the dynamic effect of the work enjoyable to watch.
My artwork often combines flowing water, fog, sand and light to create complex and constantly changing systems. Many of these works can be considered "nature watchers" because they frame and enhance our perception of natural phenomena. I'm interested in the images that appear when things flow. These images are not purely static objects; they are fluid -- representations of the cycle of life in nature.

Ned Kahn
Image Credit: Steven Pan, Rachel See, Scott Burrows & Robert Frith, Acorn Photo
Consultancy
Public Art Masterplans and Strategies
Design Assist
Digital Model & Render
Installation Methodology
Workshop
Technical Drawings
Installation
Restoration
Artwork Title
Wind Towards Future
Project
Chengdu Vanke Tianxiang Street Urban Renewal