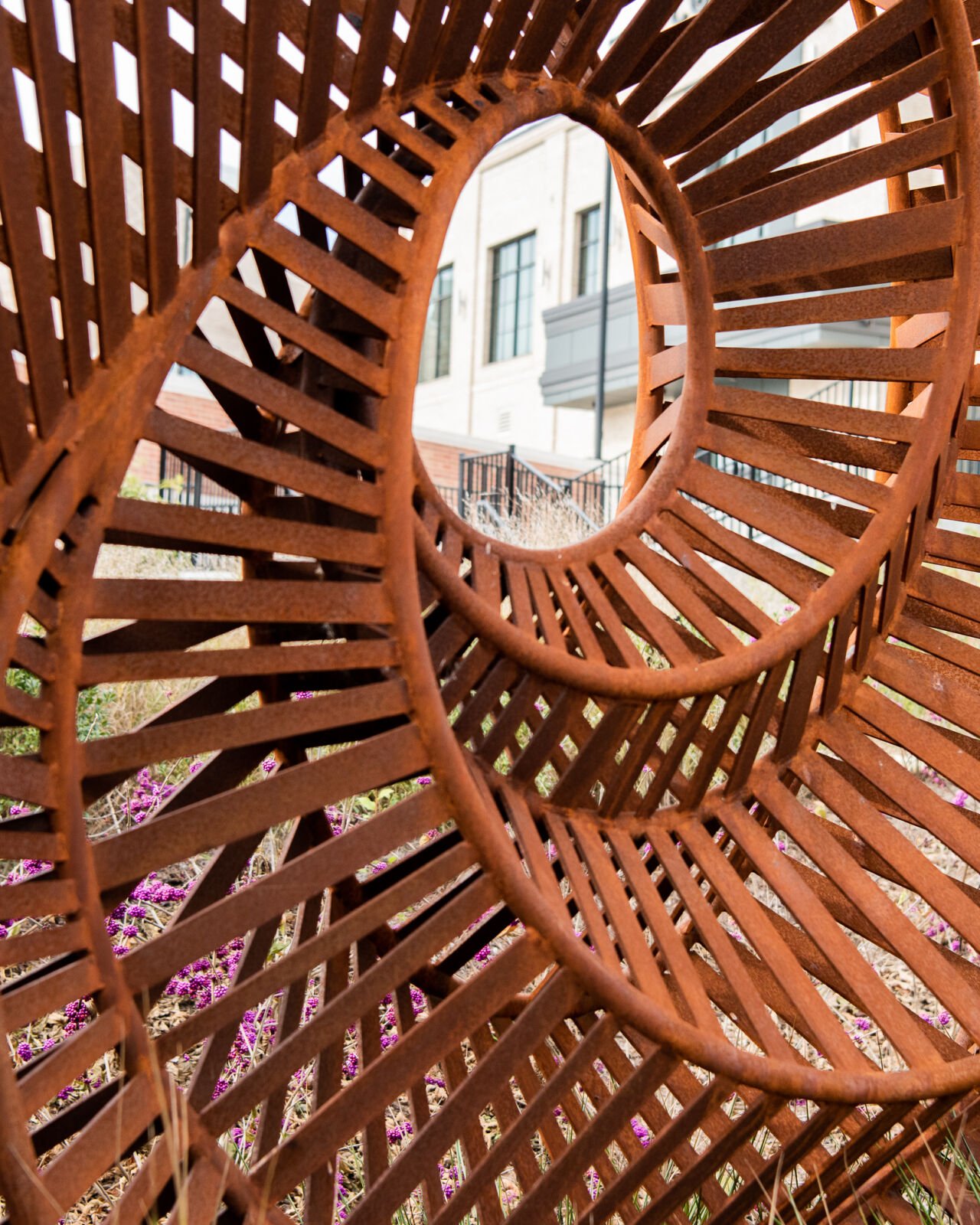 Ben is a sculptor and public artist. He sheds light on unseen forces in the natural world. When things are not easily understood, complexity is often mistaken for chaos. Ben's response is to play in the boundaries between the simple and the complex, the intricate and the overwhelming.
Upon arrival at the Fenton development, visitors come across a series of organic forms that have arisen from the earth. The geometry of these shapes, with repetitive detailing and muted natural tones, strongly evoke the patterns common in traditional crafts of the region, such as basket weaving. The sculpture itself communicates the ongoing momentum of natural growth, unfurling like a fiddlehead fern, while the material and texture convey the warmth of the handmade. The rhythmic, undulating elements span the site, drawing visitors along the path, ultimately converging on a bold central focal point of spontaneous gathering.
UAP collaborated with Ben to strategize how to build these three sculptures. Using 3D models made from physical maquettes, Ben's vision was brought to life in Cor-Ten weathering steel, which expresses the forces of change in the natural world.
Construction Documentation; Fabrication Methodology; Site Coordination, Layout, and Planning; Engineering; Finishing, and Installation were overseen by UAP. Fabrication was done by Arcadia Manufacturing Group.
'Gather,' by Ben Butler, was delivered as a result of a Public Art Strategy developed for Hines and Columbia Development by UAP.
My sculptures reflect the sensibility that objects are not fixed and finite, but are the product or residue of ongoing processes. They provide evidence of unseen forces, and they point to the distinction between the human and the non-human. Throughout the natural world, unexpected complexity emerges from simple, persistent processes. When the order of things is not readily apparent, complexity is often mistaken for chaos. In the rush to comprehend we often miss the wonderful unseen forces at work. My response is to play in these boundaries between the simple and the complex, and between the complex and the overwhelming.

-Ben Butler
Image Credit: Chris Roque courtesy of UAP | Urban Art Projects
Consultancy
Public Art Masterplans and Strategies
Design Assist
Digital Model & Render
Material Exploration
Materials and Construction Methods
Installation Methodology
Workshop
Installation
Finishing
Project
Fenton Art Strategy + Artwork
Build
UAP with Arcadia Manufacturing Group