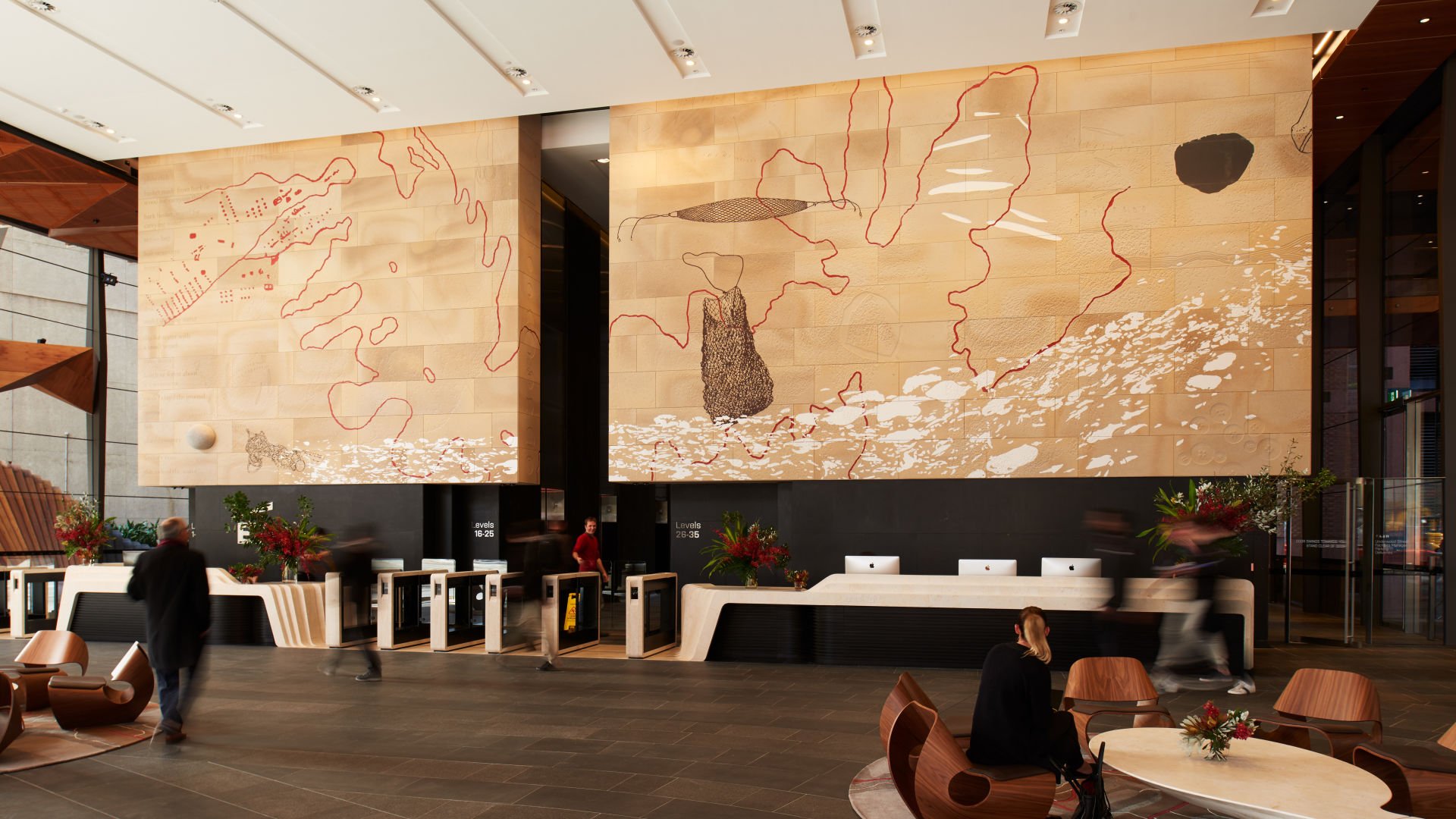 #ngarunga nangama: calm water dream
SYDNEY, AUSTRALIA
Judy Watson, in consultation with Local Gadigal Elder Uncle Allan Madden, created ngarunga nangama (calm water dream) for the lobby at 200 George Street, developed by Mirvac and Francis-Jones Morehen Thorp Architects (FJMT). The site connects with the history of Sydney's Tank Stream, which was the first water supply in the early
days of colonisation.
Watson's etching and painting practice explores her Indigenous culture and heritage and often utilises archival and historical documents. Watson consulted with Local Gadigal Elder Uncle Allan Madden on the development of text and imagery that plays throughout the design. Made of sandstone quarried from below the building, the work shows imagery of early maps, water, artefacts and text that engage deeply with the history of the site. The theme of water continues throughout the space and into the night, with light moving across the surface of the sandstone, symbolising the water that lies beneath the ground.
Working collaboratively with Watson, UAP helped to develop, fabricate and install this 300m2 sandstone installation, offering visitors an instant connection to the heritage and memory of the site.
This artwork should feel watery and light, drawing upon the elements, including the beautiful, natural sandstone that comes from beneath the ground. People should feel a connection to history and memory and awash with the water of the tank stream.

Judy Watson
Image credits: Roger D'Souza, Brett Boardman. Portrait: Richard Nolan-Neylan. Concept images: courtesy of the artist.
Artwork Title
ngarunga nangama: calm water dream
Location
Sydney, Australia