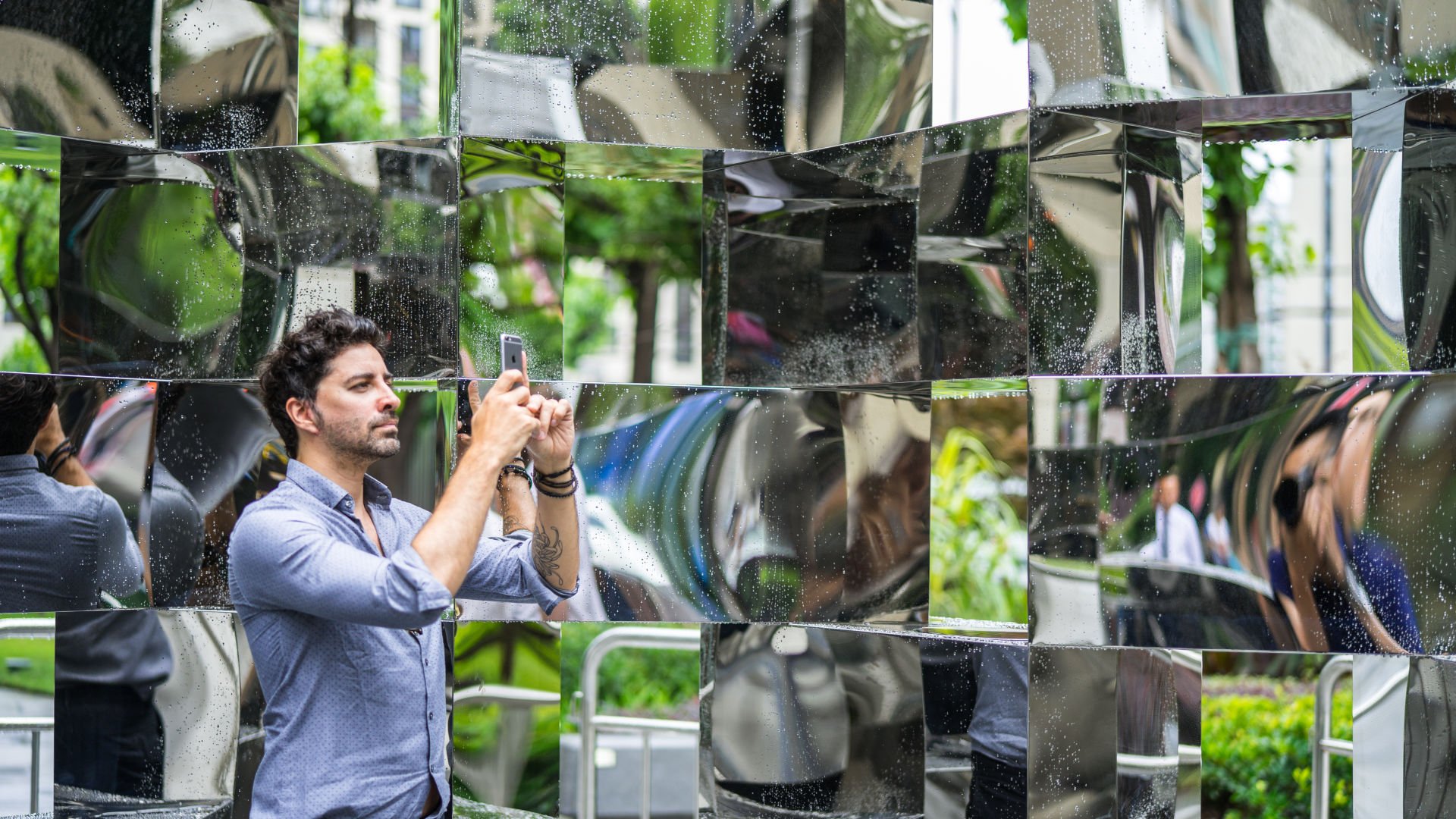 #Ring • Chain
SHANGHAI, CHINA
Known for producing artworks that play with urban context and social interaction, French-born designer Arnaud Lapierre collaborated with UAP to create Ring • Chain, his first public artwork in China. A dynamic, highly polished stainless-steel sculpture provides a dazzling centrepiece for Rui Hong Tiandi — Hall of the Moon, a major new commercial street development in central Shanghai.
At 3.5 x 5.5 m, Ring • Chain is a commanding, cylindrical sculpture composed of reflective cuboids, stacked to create surreal optical experiences. Centrally positioned in a bustling commercial pedestrian plaza, people are welcome to actively engage with the piece by entering the central void to encounter the myriad of reflections within, each colliding with the surrounding urban environment. The work becomes a place outside time and spatiality, contrasting with the external objective.
UAP collaborated closely with Lapierre throughout all phases of this project, including the curatorial selection, design development, fabrication and installation. Lapierre's willingness to push the boundaries of materiality enabled the introduction of polished stainless steel to his practice, capturing the vision for Ring • Chain.
Ring • Chain is a simple but strong installation. The repetition of cubic mirrors modifies the perception of the place and allows visitors to experience new ways of looking at the space that surrounds them. The facets of each cube reflect the environment and reconstruct an abstract paradigm that breaks our everyday perception. This is a special moment of rediscovery.

Arnaud Lapierre
Artwork Title
Ring • Chain
Project
Ruihong Tiandi - Hall of the Moon
Client
Shui On Land and China Xintiandi