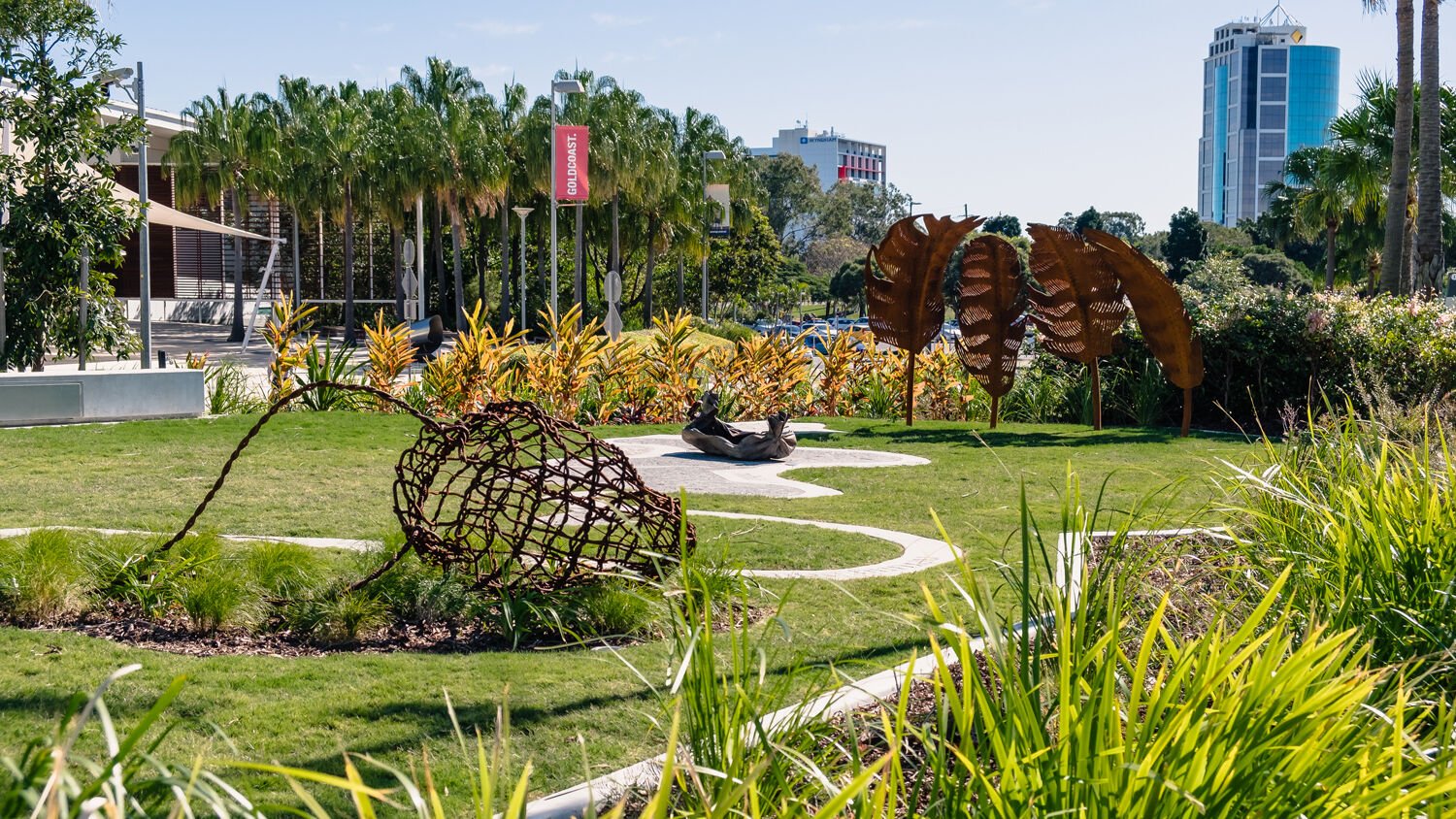 #nerung ballun (Nerang River), freshwater, saltwater
GOLD COAST, AUSTRALIA
Judy Watson's artwork nerung ballun (Nerang River), freshwater, saltwater tells a story of Country and culture that maps out new connections between the Gold Coast region and its enduring First Nations narratives. Located within the public parklands of the Gold Coast's HOTA, Home of the Arts, the highly symbolic installation includes a series of sculptural elements intertwined together along a journeying pathway that takes on the form of the nearby Nerang River.
Four weathered bisalloy eagle feathers featured within the installation form a sheltered and protective space which sits alongside two distinct, sculptural basket forms. Developed in collaboration with Quandamooka artists Elisa Jane Carmichael and Libby Harward, these basket or dilly bag-like sculptures combine contemporary and traditional regional weaves in testament to the continuity and survival of Indigenous cultural practices.
The pathway that intertwines these individual sculptures expands on these narratives of continuity, taking visitors on a journey throughout the installation. Fabricated from Nerang river concrete with an aggregate mix of shells and jasper stone, the pathway and its integrated components pull together vast conceptual links that stretch from the land to the sky, including ancient Aboriginal sites and camping places, to the Milky Way and the phosphorescence and bioluminescence that occurs within the saltwater environment offshore.
Beautiful, reflective, meditative and educative, nerung ballun (Nerang River), freshwater, saltwater creates a shared space for understanding and learning that alerts the transiting public to the indelible Aboriginal culture that lies within the ground and in the air throughout our shared Country.
The past lives within us. Ancestor's dilly bags and baskets held within Australian and international collections are today intertwined with our human fabric by their memory strands, connecting to contemporary Aboriginal artists' work, in this case Libby Harward and Elisa Jane Carmichael. The sculptural elements point to Aboriginal continuity and survival. The eagle feathers shelter and protect, the shells and stones embedded within the river form take us on a journey. We listen to those who came before and follow them to our future.

Judy Watson, 2021
Design Assist
Materials and Construction Methods
Installation Methodology
Workshop
Technical Drawings
Pattern Making
Mould Making
Sand Casting
Welding and Fabrication
Finishing and Patina
Installation
Artwork Title
nerung ballun (Nerang River), freshwater, saltwater
Client
HOTA (Home of the Arts)
Location
Gold Coast, Australia